About the Museum
Wanggung-ri Site Museum will make every endeavor to widely acknowledge and maintain the values of the Baekje Historic Area.

The Museum comprises 5 categories: Wanggung-ri Site of Baekje Palace, Baekje Buildings in the Wanggung-ri Site, Life in the Royal Palace, Change from the Royal Palace to the Temple and Baekje Palace.

Opened in 2008, the Museum was built in the south of Archaeological Site in Wanggung-ri where the Wanggung-ri 5-Story Stone Pagoda is located. The Museum aims to introduce the contents found in the process of excavating the Baekje royal palace site, display the artifacts found at that site and act as a cultural education space. In accordance with the excavation and research for 30 years since 1989, it has been confirmed that the Wanggung-ri site was a multi-purpose site, as the royal palace was built on the Archaeological Site in Wanggung-ri during the reign of King Mu during the Baekje period and used for a certain period. Later, the important buildings of the royal palace were demolished and the temple was built on that site.

The Museum configures the exhibition contents to enable visitors to easily understand the details of the Baekje palace through a video regarding the process excavating the Archaeological Site in Wanggung-ri and the display of the important artifacts found on-site. Visitors can touch original Baekje tiles and see the process for making the tiles. Visitors can also experience the process of making the convex tiles found on the Baekje palace site and the woodblock painting of Redord of the Miraculous Responses of Avalokitesvara.

Visitors can view the lifestyle of the royal palace and the process of building the royal palace through the perimeter boundary wall of the royal palace site, 14 Baekje building sites including the Hall of Rectitude where the king managed affairs of state and performed royal rituals or events, the best garden and rear garden sites of Baekje, craft workshops producing high-quality valuables including gold and glass, and the large-scale restroom, which was the best hygienic facility in Korea and the first among the ancient royal palace sites in Korea. Baekje Royal Palace was listed as a World Heritage on July 8, 2015 since it was evaluated as an historic site demonstrating the cultural exchanges among Korea, China and Japan in ancient East Asia through the space application and arrangement and artifacts found on the site.

About 300 artifacts were selected and displayed among the artifacts found during the excavation work, including gold and glass items, tiles with the royal seal and eared cups symbolizing the royal palace, convex roof-end tiles with a lotus design, various kinds of roof tiles with seals, and earthenware and kilns for producing the gold and glass items.
Inside Exhibition Hall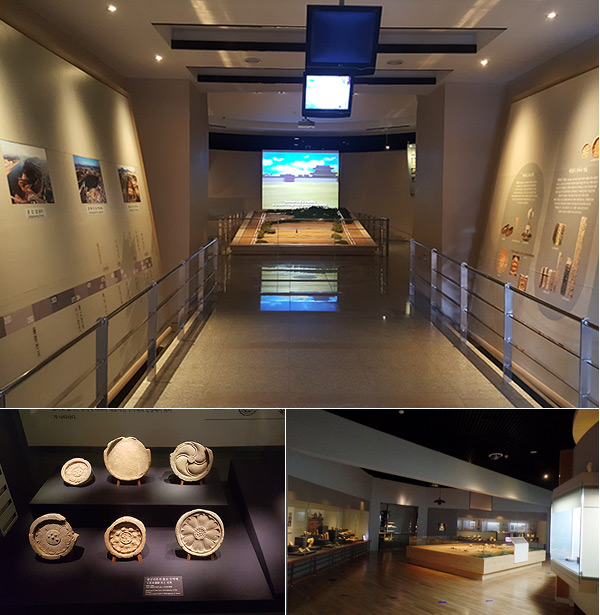 Collections
About 1,700 Collections found in Archaeological Site in Wanggung-ri including Gold and Glass Items in Various Shapes and Diverse Kinds of Kilns that Produced Them, Roof Tiles with Seals, Roof Tiles with Inscriptions, Convex Roof-End Tiles, Eared Cups, Small Bowls, Bowls with Covers, Lamps and Large Earthenware
Tiles with the royal seal
Eared Cups
Convex roof-end tiles with a lotus design
Gold items