Baekje Royal Palace
The Wanggung-ri Site Museum is configured in five themes. Viewing the exhibitions in sequence is recommended.
Select any exhibition hall in Wanggung-ri Site Museum and the details regarding the exhibition hall are displayed.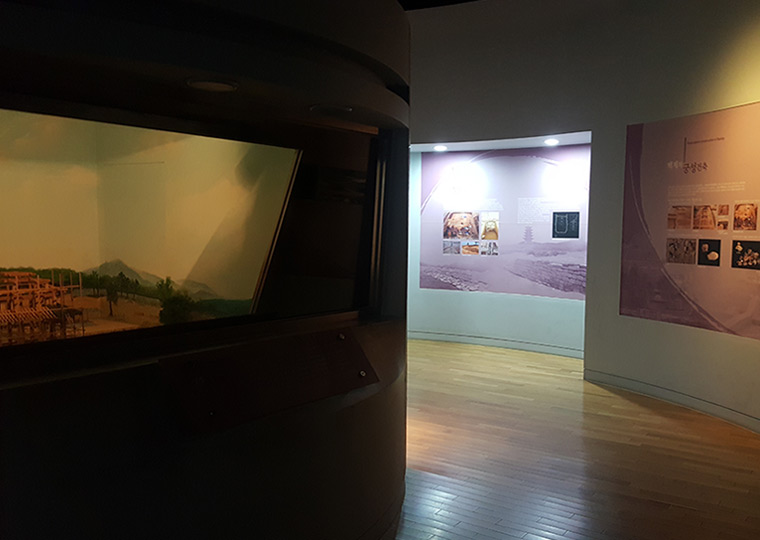 ⑤ Baekje Royal Palace
The Baekje royal palace site and the local changes as they have been investigated up to the present and the records related to the Baekje royal palace were described. Magic Vision and games help visitors to easily understand the construction process of the royal palace. It was known that the historic sites related to the Baekje royal palace were Pungnaptoseong Fortress in Seoul, Gongsanseong Fortress in Gongju, Gwanbuk-ri historic site in Buyeo and Archaeological Site in Wanggung-ri in Iksan. However, the concrete entities have not been identified yet apart from the Iksan Archaeological Site in Wanggung-ri. Pungnaptoseong Fortress, which was known as the capital in the early Baekje period in Seoul, was investigated through excavation from 1964 until 1996, but the Baekje royal palace could not be verified as only parts of the historic site were examined. However, the subsidiary facilities of the royal palace including a hexagonal broad building site, road, pond site and well were found.
As buildings having front yards and several wall-supported building sites were found in Seongan village, Gongsansong Fortress, Gongju and recently identified, there is a possibility that Gongsanseong Fortress was used as the royal palace. The area around Gwanbuk-ri historic site below Busosanseong Fortress, a historic site when Buyeo was the capital of Baekje, was scrutinized for for a long time. The large building sites that used earth banking and filing timber including the Hall of Rectitude building site, the craft workshops, roads, underground receptacles for coffins, water tanks, storage areas and storage pits found in the Archaeological Site in Wanggung-ri were also identified in the Gwanbuk-ri historic site. However, it cannot be said that the large building sites were the main buildings of the royal palace because they were out of the center of the historic site. Some suggest the need for investigation of the reason that there would be a royal palace site on the present Buyeo Girls' High School site.
The boundary wall facility, which is 3m wide, as the border of royal palace, three gate sites linked to the southern boundary walls, fifteen building sites including a large building site that was estimated to be the Hall of Rectitude site inside the wall, a garden and back garden site were found in the Archaeological Site in Wanggung-ri, the Baekje royal palace site in Iksan. The Baekje royal palace in the Archaeological Site in Wanggung-ri was considered to be the royal palace during the reign of King Mu in the Baekje period, making it the first royal palace site found as a Baekje royal palace.